'ke āmi', 'kene āmāya jāre tāpa-traya'
ihā nāhi jāni-'kemane hita haya'
(Sri Chaitanya-charitamrita: Madhya-lila, 20.102)
[Srila Sanatan Goswami Prabhu enquires from Sriman Mahaprabhu:] "Who am I? Why am I plagued by the threefold misery of material existence? I cannot understand this. How can I be benefitted?

'sādhya'-'sādhana'-tattva puchite nā jāni
kṛpā kari' saba tattva kaha ta' āpani
(Sri Chaitanya-charitamrita: Madhya-lila, 20.103)
"I do not know how to enquire about the goal of life or the means to reach it. Please mercifully explain all these truths to me."
---
Aversion to the Supreme Lord is the original cause of all suffering


jīvera 'svarūpa' haya—kṛṣṇera 'nitya‑dāsa'
kṛṣṇera 'taṭasthā-śakti', 'bhedābheda-prakāśa'
(Sri Chaitanya-charitamrita: Madhya-lila, 20.108)
"The soul is by nature an eternal servant of Krishna. The soul is Krishna's tatastha-shakti (marginal potency); a manifestation both distinct and non-distinct from Krishna."


kṛṣṇa bhuli' sei jīva anādi-bahirmukha
ataeva māyā tāre deya saṁsārādi-duḥkha
(Sri Chaitanya-charitamrita: Madhya-lila, 20.117)
"When souls outside the realm of time and space turn away from Krishna and forget Him, Maya subjects them to the various miseries of worldly existence."


kṛṣṇa-bahirmukha hañā bhoga-vāñchhā kare
nikaṭa-stha māyā tāre jāpaṭiyā dhare
(Sri Prema-vivarta: 6.3)
"When souls desire to enjoy separately from Krishna nearby Maya seizes hold of them."



piśāchī pāile yena mati-chhanna haya
māyā-grasta jīvera haya se bhāva udaya
(Sri Prema-vivarta: 6.4)
"Souls seized by Maya become bewildered just like persons who have been possessed by a ghost."
"When one is possessed by a ghost, one becomes bewildered. This condition befalls souls who have been seized by Maya."

brahmāṇḍa bhramite kona bhāgyavān jīva
guru‑kṛṣṇa‑prasāde pāya bhakti-latā-bīja
(Sri Chaitanya-charitamrita: Madhya-lila, 19.151)
"While wandering throughout the world, a fortunate soul obtains the seed of the creeper of devotion (faith) by the mercy of Guru and Krishna."

'kṛṣṇa‑nitya‑dāsa'—jīva tāhā bhuli' gela
ei doṣe māyā tāra galāya bāndhila
(Sri Chaitanya-charitamrita: Madhya-lila, 22.24)
"The souls forgot that they are Krishna's eternal servants. For this mistake, Maya binds them by the neck."


tāte kṛṣṇa bhaje, kare gurura sevana
māyā-jāla chhuṭe, pāya kṛṣṇera charaṇa
(Sri Chaitanya-charitamrita: Madhya-lila, 22.25)
"Therefore, souls that serve Krishna and Guru escape Maya's net and reach Krishna's feet."
---
The Absolute Necessity of Sadhu-Sanga

sādhavo hṛdayaṁ mahyaṁ sādhūnāṁ hṛdayaṁ tv aham
mad-anyat te na jānanti nāhaṁ tebhyo manāg api
(Srimad-Bhagavatam: 9.4.68)
[Vishnu instructs Durvasa:] "Sadhus are My heart and I alone am their heart. They do not know anyone other than Me, and I do not know anyone other than them."

sādhu-saṅge kṛṣṇa‑nāma'—ei‑mātra chāi
saṁsāra jinite āra kona vastu nāi
(Sri Prema-vivarta: 6.13)

[Sriman Mahaprabhu says:] "'To chant the Name of Krishna in the association of sadhus'—I desire this alone. There is no other way to conquer material existence."

e ghora saṁsāre, paḍiyā mānava, na pāya duḥkhera śeṣa
sādhu-saṅga kari', hari bhaje yadi, tabe anta haya kleśa
(Jaiva-dharma)
"A person who falls into this terrible material world never ceases to suffer. Yet if they associate with sadhus and serve Hari, then their distress comes to an end."


mahat‑kṛpā vinā kona karme 'bhakti' naya
kṛṣṇa‑bhakti dūre rahu, saṁsāra nahe kṣaya
(Sri Chaitanya-charitamrita: Madhya-lila, 22.51)
"Without the mercy of a great personality, none of one's actions are devotion, devotion for Krishna remains far away, and one's worldly conditioning is not destroyed."


māyāre kariyā jaya chhāḍāna nā yāya
sādhu-kṛpā vinā āra nāhika upāya
(Prarthana, 46.4)
"It is impossible to overcome and leave behind maya without the mercy of sadhus. There is no other way."

'sādhu-saṅga', 'sādhu-saṅga'—sarva-śāstre kaya
lava‑mātra sādhu-saṅge sarva-siddhi haya
(Sri Chaitanya-charitamrita: Madhya-lila, 22.55)
"All the scriptures say, 'Association with sadhus, association with sadhus'. All perfection is realised within one moment of association with sadhus."


tato duḥsaṅgam utsṛjya satsu sajjeta buddhi‑mān
santa evāsya chhindanti mano-vyāsaṅgam uktibhiḥ
(Srimad Bhagavatam: 11.26.26)
[Krishna instructs Uddhava:] "An intelligent person should abandon bad association and associate with sadhus. Sadhus cut away one's unfavourable desires with their instructions."


satāṁ prasaṅgān mama vīrya-saṁvido
bhavanti hṛt‑karṇa‑rasāyanāḥ kathāḥ
taj-joṣaṇād āśv apavarga-vartmani
śraddhā ratir bhaktir anukramiṣyati
(Srimad Bhagavatam: 3.25.25)
[Kapiladev explains to His mother Devahuti:] "Narrations which reveal My glorious nature and greatly please the ear and heart take place within the intimate association of sadhus. I am the path of liberation from ignorance and continuous hearing of narrations about Me with a service temper quickly leads to the sequential development of faith, loving attachment, and devotion."
---
The Transcendental Nature of a Devotee


kṛṣṇa-bhakta—niṣkāma, ataeva 'śānta'
bhukti-mukti-siddhi-kāmī—sakali 'aśānta'
(Sri Chaitanya-charitamrita: Madhya-lila, 19. 149)
"Those who are desire material enjoyment, liberation, or supernatural power are disturbed. A devotee of Krishna is free from of such desires and thus peaceful."
yei bhaje sei baḍa, abhakta—hīna, chhāra
kṛṣṇa‑bhajane nāhi jāti-kulādi-vichāra
(Sri Chaitanya-charitamrita: Antya-lila, 4.67)
"Anyone who serves Krishna is great. Non-devotees are fallen and condemned. There is no consideration of the caste, class, and so on, within devotion for Krishna."

devarṣi-bhūtāpta-nṛṇāṁ pitṛṇāṁ
na kiṅkaro nāyam ṛṇī cha rājan
sarvātmanā yaḥ śaraṇaṁ śaraṇyaṁ
gato mukundaṁ parihṛtya kartam
(Srimad Bhagavatam: 11.5.41)
"One who has completely abandoned all worldly duties and surrendered wholeheartedly unto the ultimate shelter, Mukunda, is no longer a debtor to, nor a servant of, the demigods, the sages, other living entities, relatives, mankind, or ancestors."


sva-pāda-mūlam bhajataḥ priyasya
tyaktānya-bhāvasya hariḥ pareśaḥ
vikarmma yach chotpatitaṁ kathañchit
dhunoti sarvaṁ hṛdi sanniviṣṭaḥ
(Srimad Bhagavatam: 11.5.42)
"The Supreme Lord resides in the hearts of His dear devotees who reject all other concerns and serve His lotus feet, and destroys any sin they happen to commit."
---
Sri Guru

āchāryaṁ māṁ vijānīyān nāvamanyeta karhichit
na martya-buddhyāsūyeta sarva-deva-mayo guruḥ
(Srimad Bhagavatam: 11.17.27)
[Krishna says to Uddhav:] "One should know the acharya to be Me. One should never disrespect him, consider him a mortal, or be envious of him. He is the embodiment of all the demigods."


sākṣād-dharitvena samasta-śāstrair
uktas tathā bhāvyata eva sadbhiḥ
kintu prabhor yaḥ priya eva tasya
vande guroḥ śrī-charaṇāravindam
(Sri Gurvashtaka: 7)
"I worship the lotus feet of Sri Gurudev. Although he is the Lord's beloved servant, all the scriptures say, and all the sadhus feel, that he is directly the Lord Himself."

dīkṣā-kāle bhakta kare ātma-samarpaṇa
sei‑kāle kṛṣṇa tāre kare ātma-sama
(Sri Chaitanya-charitamrita: Antya-lila, 4.192)
"At the time of initiation a devotee fully surrenders themself and Krishna accepts them as His own."


guru-mukha-padma‑vākya, chittete kariyā aikya,
āra nā kariha mane āśā
(Prema-bhakti-chandrika: 1.2)
"Make the words from the lotus mouth of Sri Gurudev one with your heart and desire nothing else within your heart."
toṣāmodakārī—guru vā prachāraka nahena
(Srila Bhakti Siddhanta Saraswati Thakur)
"A flatterer is not a guru or a preacher."
---
The Danger of Bad Association

avaiṣṇava-mukhodgīrṇaṁ pūtaṁ hari-kathāmṛtam
śravaṇaṁ naiva kartavyaṁ sarpochchhiṣṭaṁ yathā payaḥ
(Padma-purana)
"Discussions of the Lord are nectarean and pure. One should not hear them, however, from the mouth of a non-devotee, just as one should not drink milk which has been sipped by a serpent."


asādhu-saṅge bhāī, kṛṣṇa‑nāma nāhi haya
nāmākṣara bahirāya baṭe, tabu nāma kabhu naya
(Sri Prema-vivarta)
"Oh brothers, the Name of Krishna is never present within the association of non-devotees. The external syllables of the Name appear there, but never the Name Himself."

gurur na sa syāt sva-jano na sa syāt
pitā na sa syāj jananī na sā syāt
daivaṁ na tat syān na patiś cha sa syān
na mochayed yaḥ samupeta‑mṛtyum
(Srimad Bhagavatam: 5.5.18)
"That guru is not a guru, that relative is not a relative, that father is not a father, that mother is not a mother, that demigod is not a demigod, and that husband is not a husband, if they cannot save us from imminent death."
Any so-called guru, relative, father, mother, demigod or husband who cannot save one from the bondage of material existence should be abandoned at once.
---
The Definitions of Kam and Prem

ātmendriya-prīti-vāñchhā-tāre bali 'kāma'
kṛṣṇendriya-prīti-ichchhā dhare 'prema' nāma
(Sri Chaitanya-charitamrita: Adi-lila, 4.165)
"The desire to gratify one's senses is called kam (lust). The desire to gratify Krishna's senses is called prem (love)."
---
Challenges on the Path of Devotion

bahu janma kare yadi śravaṇa, kīrtana
tabu ta' nā pāya kṛṣṇa-pade prema-dhana
(Sri Chaitanya-charitamrita: Adi-lila, 8.16)
"If one practices hearing and chanting about the Lord for many births (but makes offences) one will not obtain the wealth of prem for Krishna's feet."
kṛṣṇa yadi chhuṭe bhakte bhukti mukti diyā
kabhu prema-bhakti nā dena rākhena lukāiyā
(Sri Chaitanya-charitamrita: Adi-lila, 8.18)
"When Krishna evades a devotee, He gives them material enjoyment or liberation. He keeps prema-bhakti hidden and does not give it to them."


bhukti-mukti ādi-vāñchhā yadi mane haya
sādhana karileo prema utpanna nā haya
(Sri Chaitanya-charitamrita: Madhya-lila, 19. 175)
"So long as desires for mundane enjoyment, liberation, and so forth, remain in one's heart, one may engage in devotional practice but prem will not arise."


chāri varṇāśramī yadi kṛṣṇa nāhi bhaje
svakarma karileo se raurave paḍi' maje
(Sri Chaitanya-charitamrita: Madhya-lila, 22. 26)
"If followers of varnashram-dharma do not serve Krishna, even though they perform their duties, they sink into hell."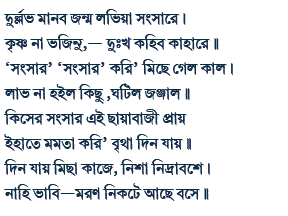 durlabha mānava-janma labhiyā saṁsāre
kṛṣṇa nā bhajinu duḥkha kahiba kāhāre?
'saṁsāra' 'saṁsāra' kari' michhe gela kāla
lābha nā haila kichhu ghaṭila jañjāla
kisera saṁsāra ei, chhāyābāji prāya
ihāte mamatā kari' bṛthā dina yāya
dina yāya michhā kāje, niśā nidrā-vaśe
nāhi bhāvi maraṇa nikaṭe āchhe vase
(Kalyana-kalpa-taru: 2.2.1–3, 6)
"I obtained a human birth, which is most rare in this world, but did not serve Krishna. To whom shall I express my sorrow?
"Living life after life in this mundane world, my time has passed in vain. I have not gained anything; I have only suffered.
"What sort of world is this? It is like a shadow play. Attaching myself to it, my days pass by in vain.
"My days pass in meaningless labour and my nights pass in sleep. I never consider that death is sitting nearby."

---
The Loving Search for the Lost Servant

śrī-kṛṣṇa‑chaitanya-dayā karaha vichāra
vichāra karile chitte pābe chamatkāra
(Sri Chaitanya-charitamrita: Adi-lila, 8.15)
"Consider the mercy of Sri Krishna Chaitanya! If you do so, your heart will be struck with wonder!"

āmi—vijña, ei mūrkhe 'viṣaya' kene diba?
sva-charaṇāmṛta diyā 'viṣaya' bhulāiba
(Sri Chaitanya-charitamrita: Madhya-lila, 22.39)
[If persons who desire mundane enjoyment, liberation, or supernatural power somehow or other engage in His service, Krishna bestows upon them the nectar of His lotus feet even though they did not ask for it, considering:] "I am wise, so why should I grant these fools worldly ends? I will give them the nectar of My lotus feet (prem), which will make them forget all worldly ends."

'jīv jāgo jīv jāgo' gorāchā̐da bale
kata nidrā yāo māyā-piśāchīra kole
bhajiba baliyā ese saṁsāra-bhitare
bhuliyā rahile tumi avidyāra bhare
tomāre laite āmi hainu avatāra
āmi vinā bandhu āra ke āchhe tomāra
enechhi auṣadhi māyā nāśibāra lāgi'
hari-nāma mahā-mantra lao tumi māgi'
(Gitavali: 2.1.1–4)
"Sri Gaurachandra calls, 'Oh souls, wake up! Oh souls, wake up! How long will you sleep in the lap of the witch Maya?
"'You promised, 'Oh Lord, I will serve You,' as you came into this world but you have forgotten this promise and remained bound by illusion.
"'I have descended to reclaim you. Other than Me, who else is your friend?
"'I have brought the medicine to dispel Maya. Pray for this Hari-nam mahamantra—Hare Krishna, Hare Krishna, Krishna Krishna, Hare Hare, Hare Rama, Hare Rama Rama Rama, Hare Hare—and take it.'"

durdaive sevaka yadi yāya anya sthāne
sei ṭhākura dhanya tāre chule dhari' āne
(Sri Chaitanya-charitamrita: Antya-lila, 4.47)
"If, by misfortune, a servant goes elsewhere, glorious is the master who brings them back, pulling them by the hair."
---
Faith and Surrender


'śraddhā'-śabde—viśvāsa kahe sudṛḍha niśchaya
kṛṣṇe bhakti kaile sarva-karma kṛta haya
(Sri Chaitanya-charitamrita: Madhya-lila, 22.62)
"Shraddha means firm, confident faith that all duties are performed if one serves Krishna."


śraddhāvān jana haya bhakti-adhikārī
'uttama', 'madhyama', 'kaniṣṭha'—śraddhā-anusārī
(Sri Chaitanya-charitamrita: Madhya-lila, 22.64)
"Faithful persons are qualified for devotion. According to their faith, they may be advanced devotees, moderate devotees or neophyte devotees."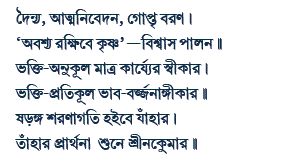 dainya, ātma-nivedana, goptṛtve varaṇa
'avaśya rakṣibe kṛṣṇa'—viśvāsa pālana
bhaki-anukūla-mātra kāryera svīkāra
bhakti-pratikūla-bhāva varjanāṅgikāra
ṣaḍ-aṅga śaraṇāgati haibe yā̐hāra
tā̐hāra prārthanā śune śrī-nanda-kumāra
(Sharanagati: 1.3–5)
"(1) Humility, (2) self-submission, (3) embracing the Lord's guardianship, (4) maintaining the faith that 'Certainly Krishna will protect me', (5) engaging only in activities which are favorable to devotion, and (6) utterly rejecting everything unfavorable to devotion—Sri Nanda Kumar hears the prayer of one who surrenders in this six-fold way."
---
The Nature of Spiritual Existence

aprākṛta vastu nahe prākṛta-gochara
veda-purāṇete ei kahe nirantara
(Sri Chaitanya-charitamrita: Madhya-lila, 9.194)
"Supramundane existence is not materially perceptible. The revealed scriptures always say this."

kṛṣṇa‑sūrya-sama; māyā haya andhakāra
yā̐hā kṛṣṇa tā̐hā nāhi māyāra adhikāra
(Sri Chaitanya-charitamrita: Madhya-lila, 22.31)
"Krishna is like the sun; Maya is like darkness. Wherever Krishna is present, Maya is absent."

sarvatra kṛṣṇera mūrti kare jhalamala
se dekhite pāya yā̐ra ā̐khi niramala
andhibhūta chakṣu yāra viṣaya dhūlite
ki-rūpe se para-tattva pāibe dekhite
"One whose vision is pure is able to see Krishna's form shining everywhere. But how will one whose eyes are blinded by the dust of mundanity ever be able to see that Supreme Truth?"


īśvarera kṛpā-leśa haya ta' yāhāre
sei ta' īśvara-tattva jānibāre pāre
(Sri Chaitanya-charitamrita: Madhya-lila, 6.83)
"One who has a touch of the Lord's mercy can understand the nature of the Lord."

īśvaraḥ paramaḥ kṛṣṇaḥ sach-chid-ānanda-vigrahaḥ
anādir ādir govindaḥ sarva‑kāraṇa‑kāraṇam
(Brahma-samhita: 5.1)
"The embodiment of spiritual existence, consciousness, and ecstasy, Sri Krishna, who is known as Govinda, is the Supreme Lord of all Lords. He has no origin, He is the origin of all, and He is the cause of all causes."
---
The Fundamental Practices of Devotion (Bhaktyangas)
Outlined by Sriman Mahaprabhu to Sanatan Goswami Prabhu

guru‑pādāśraya, dīkṣā, gurura sevana
sad-dharma-śikṣā-pṛchchhā, sādhu‑mārgānugamana
(Sri Chaitanya-charitamrita: Madhya-lila, 22.111)

"(1) To take shelter at the feet of Sri Guru. (2) To be initiated. (3) To serve Sri Guru. (4) To ask and learn about true religion. (5) To follow the path of the sadhus."

kṛṣṇa‑prītye bhoga-tyāga
yāvan-nirvāha-pratigraha
(Sri Chaitanya-charitamrita: Madhya-lila, 22.112)
"To give up enjoyment out of love for Krishna. To accept only what is required for the maintenance of one's life."

sādhu-saṅga, nāma‑kīrtana, bhāgavata-śravaṇa
mathurā-vāsa, śrī-mūrtira śraddhāya sevana
(Sri Chaitanya-charitamrita: Madhya-lila, 22.124)

"(1) To associate with sadhus. (2) To chant the Name of the Lord. (3) To hear the scriptures of pure devotion. (4) To reside in a holy place. (5) To faithfully serve the Lord's Deity."


sakala‑sādhana-śreṣṭha ei pañcha aṅga
kṛṣṇa‑prema janmāya ei pā̐chera alpa saṅga
(Sri Chaitanya-charitamrita: Madhya-lila, 22.125)
"These five are the best of all the limbs of devotional practice. Krishna-prem develops from even slight participation in these five limbs."


prasāda-sevā, karite haya, sakala prapañcha jaya
(Sharanagati: 31.5)
"By honoring prasad, we overcome the entire material world."
kīrtana prabhāve smaraṇa ha-ibe
(Vaishnava Ke?: 19)
"By the power of kirtan, remembrance of the Lord will develop."
---
The Stages in the Awakening of Prem

ādau śraddhā tataḥ sādhu-saṅgo 'tha bhajana-kriyā
tato 'nartha-nivṛttiḥ syāt tato niṣṭhā ruchis tataḥ
athāsaktis tato bhāvas tataḥ premābhyudañchati
sādhakānām ayaṁ premṇaḥ prādurbhāve bhavet kramaḥ
(Bhakti-rasamrita-sindhu: Purva-vibhaga, 4.15–16)
"First faith arises, then association with sadhus, engagement in service, eradication of evils, constancy, taste, attachment, emotion, and finally love (prem). These are the stages in the awakening of a practitioners' prem."